Originally Belfast, now Bangor Co Down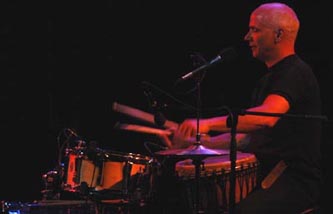 Lambeg, Djembe, Bodhran, Snare, Long Drum, Dhol, Native American Flute, Harmony Vocals…
Occupation
Paul is something of a renaissance artist, an award winning, MFA (distinction) qualified, visual and sound Artist working in Photo and video, a builder of Ireland's traditional Lambeg & Bodhran drums, an engineer and instrument inventor, multi-percussionist and instrument designer for STOMP, Royal Philharmonic Orchestra and Evelyn Glennie to name drop a little.
With Different Drums for 15 years Paul brings a wealth of percussive experience having played drumset for 40+ years and hand percussion for 30+ years. Paul plays most kinds of drums from around the world.
Paul is an award winning artist, his creations and commissions are in 4 continents, in private and public collections and his creative endeavours have taken him around the world both as visual artist and musician.
Paul is proud to use and endorse equipment by the following companies