Bodhran, Lambeg, Darbuka, Bones, Vocal, Percussion
East Belfast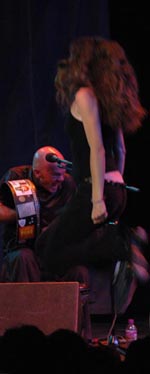 Stephen is one of the earliest members of Different Drums and has been involved in Music for most of his life. He is a native of East Belfast and has lived in Belfast for the last 10 years after spending time in England and Derry. He began playing music as a schoolboy in a variety of rock bands, most notably the band that went on to be known as "Ghost of an American Airman" He then found the blues with Noella Hutton. Once involved in Different Drums he has been exploring the roots of Irish and world music and has interests in Middle Eastern and American roots music.
Since 1992 after teaming up with Roy he has informed the work of Different Drums and been instrumental in developing the educational aspect of the band.
He has a history in community development work having worked in the Citizens Advice Bureau (a free legal advice Centre) for 10 years and is currently involved in facilitating percussion workshops in North Belfast, with a view to opening a cross community percussion school. He currently works as a community music worker with the Greater Shankill Partnership and hopes to develop the musical infrastructure around the area.
Stephen has an avid interest in Integrated Education (educating children of all faiths and none together) and is a governor of Millennium Integrated Primary School, which he has been involved with since 1998.