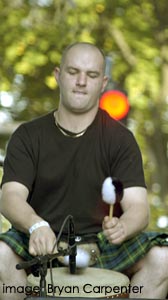 Marching Snare, Lambeg, Longdrum, Kilt
New Buildings Co L'Derry
Richard is the most recent addition to Different Drums and sports the official band hairstyle.
Hailing from New Buildings in Co L'Derry, Richard comes from 3 generations of competitive pipers and drummers,having learned his snare drumming in Bready Ulster Scots Pipe Band,Co.Tyrone.
Richard plays marching snare, lambeg, djembe and longdrum. He joined the band in december 2004 and has brought new sounds and influences to DDI.
His current snare drum is sponsored by The Tavern Bar,London Street,L'Derry.
Richard is given occasionally to wearing the Campbell Tartan Kilt, nobody has dared check if he wears anything underneath!